We are glad to announce that VTS plenum fans (plug-fans) in VS 225 - VS 450 sizes, which are manufactured at our plant in Buford, Georgia, USA, have been granted the AMCA Certificate.
This Certificate is awarded by AMCA (Air Movement and Control Association International), an independent certification organisation, confirming parameters and/or requirements, regarding the subject to certification.
AMCA in an international non-profit organisation which groups manufacturers from the HVAC branch all over the world. Its goals include, among others:
support of science and engineering practice development,
promotion of good business practice in branches, controlled by the AMCA International scope of standards, conformable with the AMCA Code of Ethics,
development and maintenance of standard testing methods, regarding the ranking of products in the above-mentioned branches.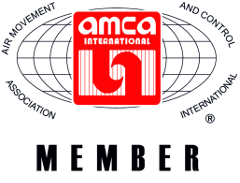 The AMCA standards have met with great appreciation of designers and manufacturers in the HVAC branch, especially in the USA. It is the most recognisable branch association in the United States. It determines recommendations and preferences of American designers, so that the manufacturers of equipment presented their data in a harmonised and unified way and that presented data were confirmed in studies, carried out in compliance with the uniform standard of AMCA.
Out of all the AMCA standards, developed for fans, the following two main standards have been selected:
presentation of parameters in particular fan operation points, i.e., bringing together such parameters as: fan pressure increase, rotor shaft power and fan performance with rotor speed (RPM) (AMCA 211),
presentation of fan noise characteristics (AMCA 311).
AMCA has also granted its Certificate to multi-plane air dampers, manufactured by VTS. The devices have been tested at the AMCA Laboratory in the USA with regards to air flow resistance and tightness. (AMCA 511).
In this way, AMCA has designed accurate characteristics of multi-plane air throttles, which are important in precise air control systems and in design of energy-efficient appliances.
Following the classification in AMCA 511 standard, the throttles have been granted with 3rd class tightness.
The obtained certificates open the door for VTS equipment to be presented in technical specifications of American designers.
In addition, AMCA certification confirms the reliability of parameters, demonstrated by VTS equipment.
Beside EUROVENT, AMCA certificates enhance the competitiveness of VTS offers on the US market, as well as at the MEA region and in India.